India Bollywood Tour with Dubai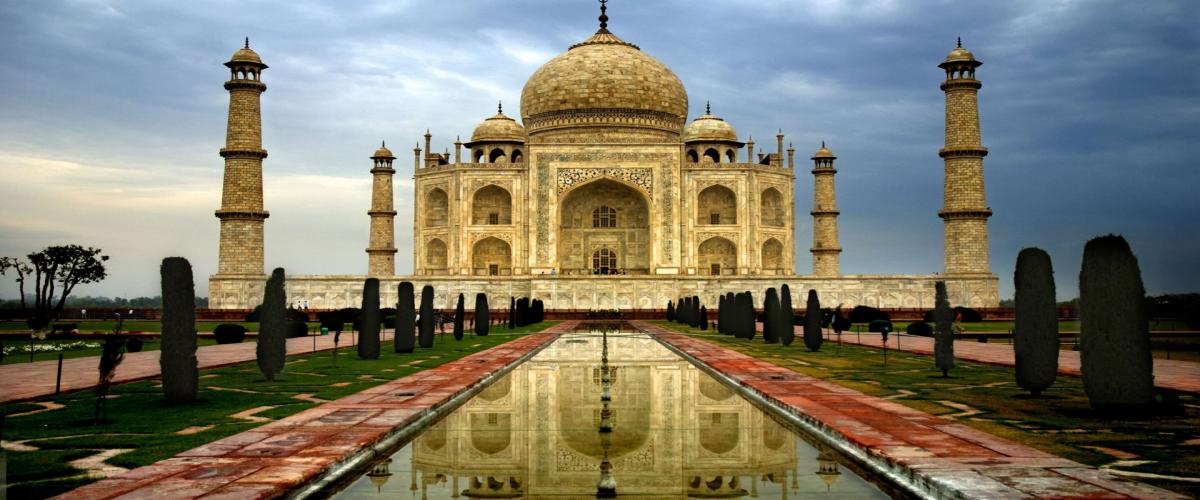 India
$6,559
Itinerary
DAY 1. DEPART HOME
Departure from Trinidad to New York.
Connection at 10:40am New York to New Delhi, meeting and assistance on arrival and transfer to hotel.
DAY 2. NEW DELHI – SIGHTSEEING
Morning sightseeing of Old Delhi, Drive past the Red Fort - a marvel in red sandstone, the Raj Ghat, - memorial to Mahatma Gandhi, the Jama Masjid - the largest mosque in India. Spend some time in Chandi Chowk to savour the ambience of an oriental, crowded bazaar. Followed by cycle rickshaw ride.
Afternoon sightseeing of New Delhi. In New Delhi visit the 12th century Qutab Minar, gracefully hand-carved for its entire height of 234ft, and the iron pillar, which has withstood the ravages of time and not rusted even after 1500 years, the mausoleum of emperor Humayun, the imposing modern Lakshmi Narayan temple. Drive past India Gate (memorial to the Indian army soldiers who died in the World War I) the Rashtrapati Bhavan (formerly the viceroy's residence) and the Parliament House.
DAY 3. DRIVE TO AGRA / DAY AT LEISURE
Morning drive to Agra. On arrival check in at hotel, rest of the day is at leisure. Overnight at hotel.
DAY 4. AGRA / TAJ MAHAL / AGRA FORT
Morning visit Taj Mahal. Visit the world famous Taj Mahal built by Shah Jahan in 1560 in memory of his queen Mumtaz Mahal to enshrine her mortal remains. This architectural marvel is a perfectly proportioned masterpiece fashioned from white marble that stands testimony  to the skill of 20,000 craftsmen brought together from Persia, Turkey, France and Italy and who took 17 years to complete this 'Love  Poe in Marble'. (Friday closed).
Followed by a traditionally horse pulled `tonga' ride.
Later visit the Agra fort containing the halls private and public audiences and other palaces. Shah Jahan spent years of confinement at the hands of his son Aurangzeb, looking wistfully at the Taj Mahal from the Fort.
DAY 5. DRIVE AGRA TO JAIPUR
Morning drive to Jaipur en-route visiting Fatehpursikri. Located 40 Km from Agra, the deserted city of Fatehpursikri was built by Emperor Akbar in 1569, in honour of the great Saint Sheikh Salim Chisti who blessed Akbar and prophesized the birth of three sons to the heirless Emperor. Akbar used Fatehpursikri as his capital and the city was fully occupied for 14 years but slowly became deserted and ruined after Akbar left the city. Scarcity of water was the prime factor for the abandonment of this beautiful city. Visit the remarkably well-preserved, graceful buildings within the 'Ghost City' including the Jama Masjid, tomb of Salim Chisti, Panch Mahal Palace and other palaces that speak of the grandeur and splendour of the Mughal empire at the height of its power.
After visit continue drive to Jaipur. On arrival check in to hotel. Overnight at hotel.
DAY 6. JAIPUR
Morning Amber Fort with elephant ride: Amber is a classic, romantic Rajasthani fort Palace. The rugged, time-ravaged walls of the Fort may not look beautiful from the outside, but the interior is a virtual paradise. Miniatures painted on the walls depict hunting and war scenes, apart from festivals. Precious stones and mirrors are embedded into the plaster. A major attraction at Amber is the Elephant Ride all the way up to the Fort entrance. This journey on caparisoned elephants is bound to enrich your memories with the Royal lifestyle of the Maharajas and leave you with a truly unforgettable experience. Inside the Fort visit the Jag Mandir or the Hall of Victory. Inside the Jag Mandir is the famed Sheesh Mahal – a room with all the four walls and ceiling completely embedded with glittering mirror pieces, which were specially imported from Belgium during that period. En route to Amber Fort, you will have a brief photography stop at Hawa Mahal - the Palace of Winds. Afternoon city tour begins with a visit to the Maharaja's City Palace, the former Royal residence, part of it converted into a museum. A small portion is still used by the Royal family of Jaipur. Built in the style of a fortified campus, the palace covers almost one-seventh in area of the city. One of the major attractions in the museum is the portion known as Armoury Museum housing an impressive array of weaponry-pistols, blunderbusses, flintlocks, swords, rifles and daggers. The royal families of Jaipur once used most of these weapons. Later visit the Jantar Mantar, which is the largest stone and marble crafted observatory in the world. Situated near the gate of the city palace, the observatory has 17 large instruments, many of them still in working condition.
Optional Evening visit Birla Temple to witness 'Aarti' (prayer ritual) ceremony followed by cycle rickshaw. Overnight at hotel.
DAY 7. DELHI
Morning at Leisure for shopping and relaxation, afternoon drive to Delhi (256 kms/ 06 hrs).On arrival check in at hotel.
DAY 8. DUBAI
We leave Delhi. Check out Hotel and transfer to airport for flight to Dubai. Meeting and assistance on arrival and transfer to hotel.
Later proceed for full day Dubai tour with Burj Khalifa -124 floor visit. We will take you through the heart of Dubai and explore a fascinating morning tour. The most modern and most desired tourist destination, which has a lot to surprise any tourists who arrives to Dubai. We will have a start with a photo stop at the "Jumeirah Mosque" which is the most captured building in Dubai and then drive towards the open beach, where you will have a stunning view of "Burj Al Arab".  We will proceed towards the "Madinat Jumeirah" (a replica of old city of Arabia) for a photo stop and then to the wonderful palm island where we will have a chance to look at the Billion dollar hotel project, "Atlantis the Palm". Before we proceed to our next to stop us Will pass by the "Knowledge village, "Dubai Internet city," and "Media city". We will be having a photo stop next at the "Burj Khalifa" (the world's tallest building) which is attached to the Dubai Mall (one of the largest shopping mall in the world) and then we will head to the " Al Fahidi Fort " (oldest building later converted into a Museum) and then after a photo stop at the creek we will stroll to our final stop Gold Souq, through the tiny lines of the Spice Souq with sacks of dried lemon, ginger root, nuts, traditional medicine and much more. Dubai is a bustling city with its own individual charm. So come and join our tour and you will discover more of the hidden secrets of this town.
DAY 9. FUN DAY IN DUBAI - RETURN HOME
Morning at Leisure for Optional Shopping.
Leave DUBAI. Check out Hotel and transfer to airport for flight to New York, after, Arrival in New York in time to connect to flight to Trinidad.
DAY 10. TRINIDAD
Arrive in Trinidad.
What's Always Included
Sightseeing Highlights
World famous Taj Mahal in Agra.
Raj Ghat, Mahatma Gandhi Memorial & Museum.
Agra Fort.
Amber Fort with Elephant Ride.
World Famous Burj Khalifa in Dubai.
Shopping at Dubai Mall.
Package Includes
International air fare.
Land & all ground arrangements.
And lots of Memories for Life!
Twin Sharing Accommodation
Inclusive Breakfast
Monument entrance fees.
AC Deluxe motor coach.
Elephant ride at Jaipur.
Tonga Raid to the Famous Taj Mahal.
English speaking guide
Meeting and assistance
And lots of Memories for Life!
7 star tour is also available
Disclaimer
- These prices are correct at the time of the itinerary going live, however are subject to confirmation at the time of booking.
- All tour information is correct at time of tours going live, however is subject to change, please confirm all details at time of booking.
- For full terms and conditions, please contact our sales team.